Glass bottle beer / carbonated drink
Full Automatic rinsing filling and sealing machine 3 in 1
Product Application
PXDGF type glass bottle full automatic Wash-filling-capping (Rinsing-bottling-sealing) 3-in-1unit: this filling machine is used to produce glass bottle beer / carbonated drink / soda water/ soft beverage / alcoholic gas beverage and other carbonated beverage / drinks. The filling machine can finish all the process such as washing bottle, filling carbonated liquid and sealing caps, it can reduce the materials and Outsiders touch time, improve the sanitary conditions, production capacity and economic efficiency.
Project Description:
Project Name:

Complete glass bottle beer / carbonated drink / soft beverage / soda water automatic filling machine
Bottle and caps
Shape
Bottle volume
Bottle size
Liquid material
Filling Capacity
Glass bottle
Crown caps
Round
330ml, 350ml, 500ml, 640ml, 750ml,1500ml
Diameter ≤105mm
Height≤350mm
Beer/Carbonated drink
/Soda water/Soft water
2000-12000BPH@500ml
Rinsing pressure
Filling type
Filling temprature
Filling pressure
Caps loading and feeding
Machine material
0.25-0.3MPA
Blance pressure filling
(Twice vacuumized)
0-5ºC
0.15-0.5MPA
Automatic
SUS304/316
Auxiliary Equipment
Bottle warming
Labeling
Date printer
Packing
Ambient Conditions
Electrical Supply
Spray warming tunnel
Paper label
Adhesive sticker Label
Ink-jet printer
Laser printer
PE Film packing
Carton packing
Temperature:10~25ºC;
Humidity:No dew
380V, 50/60Hz, 3phase
Other power: 110V, 220V, 415V, 440V, 450V
Beer Full automatic Washing filling and capping machine 3 in 1 PXDGF18186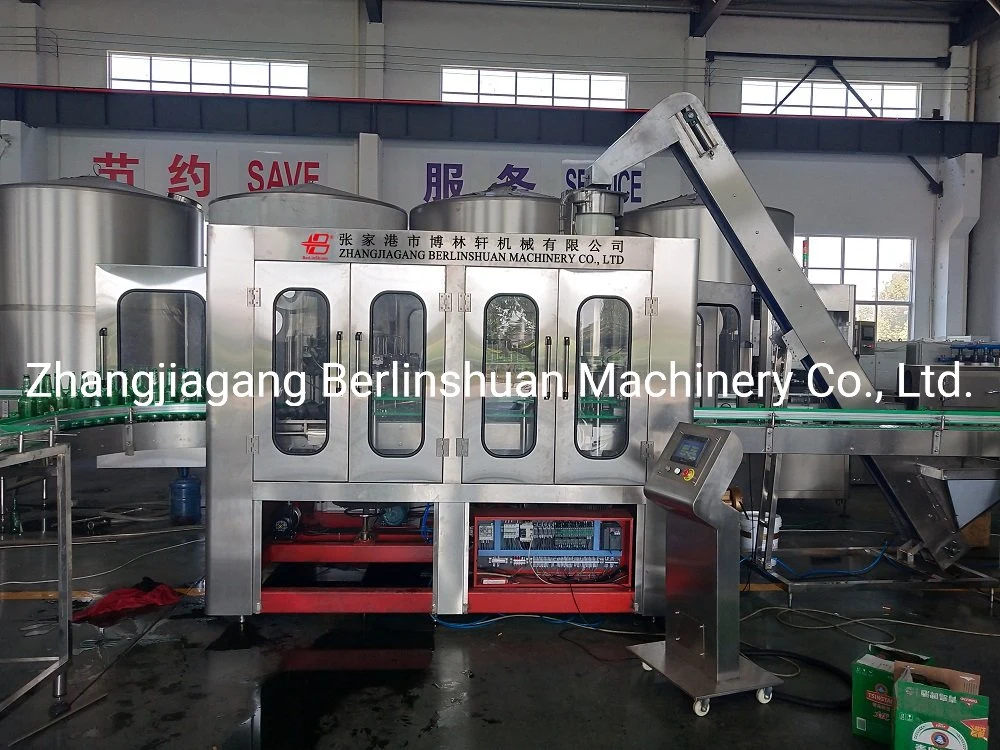 Main Technical parameters:
| | |
| --- | --- |
| Model | PXDGF18186 |
| Heads of washing, filling , sealing | 18-18-6 |
| Production capacity(bottle/hour) | 2000-4000BPH (600ml) |
| Suitable bottle diameter(mm) | φ=50-100 H=170 330-1500ml |
| Spraying pressure | 2~3 Mpa |
| Motor power Main motor | 3.5kw |
| Overall dimension(LxWxH) | 2400x2000x2550mm |
| Weight | 3500kg |
| Touch screen | Mitsubishi(Japan)/Willen(Taiwan)/Siemens(Germany) |
| PLC | Mitsubishi(Japan) |
| Transducer | Mitsubishi(Japan)/Siemens(Germany) |
| Solenoid Valve | Festo (Germany) |
| Contactor | Schneider (France)/Siemens(Germany) |
| Electronic Control Keys | Mitsubishi(Japan)/Siemens(Germany) |
| Air-actuated component | Airtac (Taiwan) |
Product Description:
1. The beer filling machine is used in production of beer drink packing in glass bottles with crown cap. Washing, filling and sealing parts are integrated in one machine 3 in 1 type.
2. The whole machine is controlled by PLC with touch-screen as the human-machine interface. It is with English operation, easy to operate.
The filling and capping will be stopped automatically when there is no bottle.
When bottles are cramped wrongly or when caps are not available, the machine can be stopped automatically.
3. The frequency changing technology is used to adjust the operation speed sleeplessly.
The production capacity can be displayed digitally and can be adjusted conveniently.
4. Bottle washing part:
Spring cramps are used in the bottle washing process. The empty bottles can be turned over 180ºC along the conveying rail.
There are two times of internal and external washing, the efficiency of bottle washing is high.
5. Bottle filling part:
The beer filling machine is designed with advanced technology.
The high quality of beer filling valve is adopted for filling the beer, with fast filling speed,high filling precision, stable filling function, long life span to guarantee the quality. The amount of liquid is accurately controlled and the dropping and leakage are avoided.
6. Bottle sealing part:
The crown cap pressing system is used for crown cap sealing. It is with automatic cap sorter, cap loader, and cap sealing pressing head.
7. As the customer's need, the filling machine is made with automatic cap lifter for easy lifting caps into the cap sorter, then which will save a lot labor to put the caps into the cap sorter up the sealing part