High quality cordyceps sinensis extract 4:1 50%
Wild cordyceps sinensis is also called the "caterpillar fungus." In the wild it grows on and acquires
nutrients from several species of caterpillars. In China, it is referred to as "winter worm, summer
grass." This fungus is found at high altitude in the mountains of China, Nepal, and Tibet.
In traditional Chinese medicine,cordyceps sinensis is considered to benefit the lung and kidney
channels. It is commonly used by the elder in China as a type of "super- ginseng" for rejuvenation
and stamina.

1. wild cordyceps sinensis with the function of antitumor and antiviral;
2.wild cordyceps sinensis will improve immunity and inhibiting cell division;
3.wild cordyceps sinensis used to reduce blood cholesterol,triglycerides and artery atherosclerosis;
4.wild cordyceps sinensis can improve renal function, it can reduce the damage that toxic substances caused to the kidney.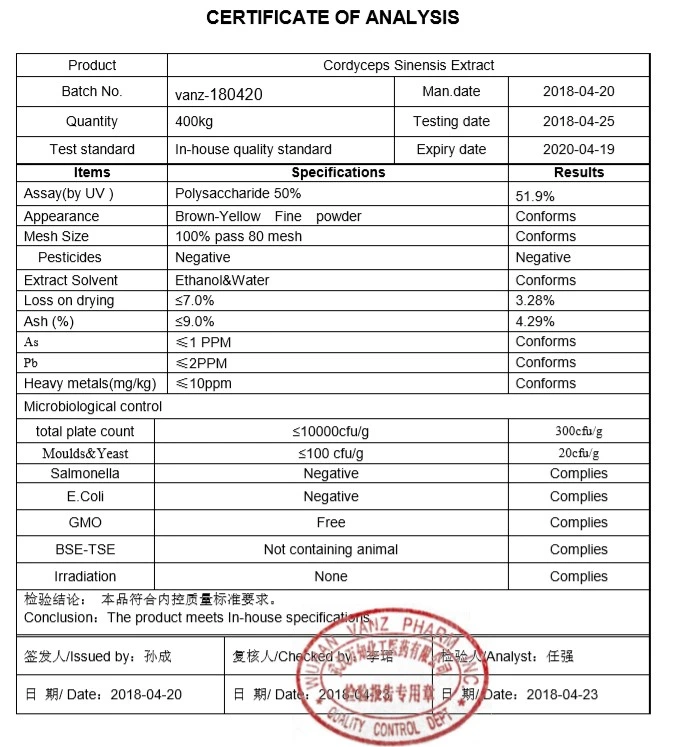 We are also privide :
| | |
| --- | --- |
| Almond Extract Amygdalin | 29883-15-6 |
| Aloe Vera Extract | |
| Astaxanthin | 472-61-7 |
| Avocado Soybean Unsaponifiables | |
| Broccoli Extract Powder | |
| Ecdysone Extract | 5289-74-7 |
| Epimedium Extract Powder | |
| Morinda Root Extract | |
| Garcinia Cambogia Extract | 90045-23-1 |
| ginseng extract | |
| Grape Seed Extract Powder | 84929-27-1 |
| Green coffee bean | |
| Green tea powder | |
| Morinda Extract | |
| Mulberry Extract | |
| Olive leaf Extract | |
| Pterostilbene | 537-42-8 |
| Rhodiola Rosea | 97404-52-9 |
| Sulforaphane | 4478-93-7 |
| Tribulus Terrestris | |
| Apigenin | 520-36-5 |
| Mangiferin | 4773-96-0 |
| Lycopene | 502-65-8 |
| Zeaxanthin | 144-68-3 |
| Xanthophyll | 127-40-2 |
| Chrysanthemum indicum extract | |
| Swertiamarine | 17388-39-5 |
| Celastrol | 34157-83-0 |