| | |
| --- | --- |
| Product Name | Rosemary extract |
| Part Used | Leaf |
| Appearance | Brown powder |
| Active Ingredient | Ursolic acid |
| Specification | 25%, 30%,50%,80%, 90%,98% |



What is Ursolic Acid?
Ursolic acid, also known as urson, prunol and malol is a pentacyclic triterpenoid compound which is naturally presented in a large number of vegetarian foods, medicinal herbs, and other plants. We extract the Ursolic acid from leaf of Rosemary(Rosmarinus officinalis Linn.).
Research indicates that the ursolic acid has a decent effect on anti-aging,anti-freckle by its anti-oxidant activity. It can prevent the appearance of wrinkles and age spots by restoring the skin's collagen bundle structures and its elasticity.
As a cosmetic agent,it is stable,the color and odor of which will not be changing easily over time, and has a good sense of touching. Thus it has been widely used in the health food, pharmaceutical and cosmetic fields as the raw materials.

1) Rosmarinic acid exhibits various pharmacological activities including prevention of oxidation of low density lipoprotein,inhibition of murine cell proliferative activity and of cyclooxygenase,and anti-allergic action.
2) The biological activity of rosmarinic acid is described as antibacterial,antiviral,and antioxidative.
3) Its activity especially against rheumatic and inflammatory conditions makes it a sought-after substance for use in phytotherapy.
More recently,rosmarinic acid or its salts were reported to have anti-HIV activies.
Application:
a. In Food industry
1). High-efficient antioxidant;
2). Antibacterial;
3). Restrain growing of colon bacillus and staphylococcus aureus.
b. In Pharmaceuticals and Health Care industry
1). Reduces activity of hyaluronidase, then keep hyaluronic acid living for a long time in epidermal cell;
2). Antineoplastic effect;
3). Anti-hepatitis effect, protect liver from damnification;
4). Anti-nephritis;
5). Anti-thrombus;
6). Anti-platelet-aggregation;
c. In Cosmetic industry
1). Intensify constringency;
2). Eliminate freckle, strengthen skin elasticity and slow aging;
3). Accelerate blood circulation of scalp;
4). Improve phalacrosis, reduce scurf and embellish hair;
5). Stimulate hair and nail growing.

Certificate of Analysis
Batch Number

Z20190412001

Production Date

2019.04.12

Batch Quantity

80 KGS

Item
Test Standard
Testing Result

Appearance

Powder

Complies

Color

Brown powder

Complies

Particle Size

100% pass 80 mesh

Complies

Oder

Characteristic

Complies

Taste

Characteristic

Complies

Loss on Drying

≤5

.

0%

2.2

0%

Residue

on

Ignition

≤0.1%

0.05%

Residual acetone

≤0.1%

Complies

Residual Ethanol

≤0.5%

Complies

Heave Mentals

≤10ppm

Complies

Na

≤0.1%

<0.1%

Pb

≤3 ppm

Complies

Total Plate

<1000CFU/g

Complies

Yeast & Mold

<100 CFU /g

Complies

E. Coli

Negative

Complies

Salmonella

Negative

Complies

Conclusion:

Conform with USP Standard
Storage:Closed container. dry & cool. keep away from moisture &strong light
Shelf life:24 Months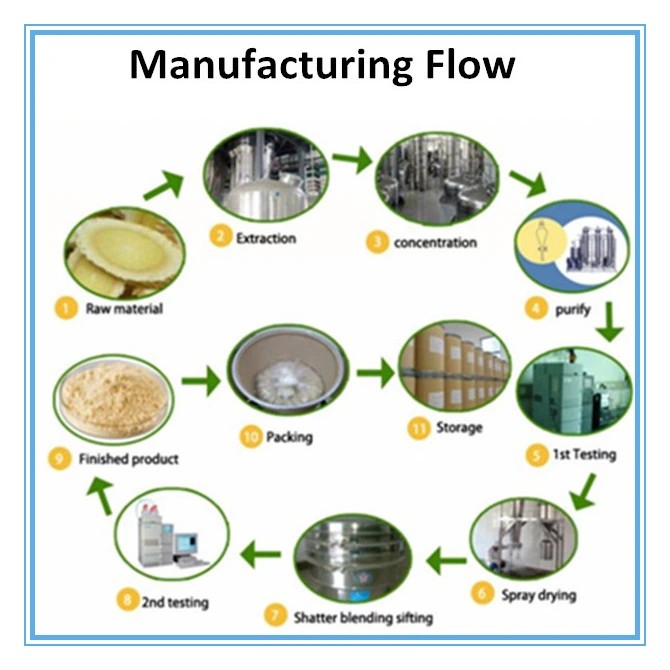 Shipping Options as follows

EMS

Around

7

-1

0

working days

DHL

Around 3-5 working days

Fedex

Around 4-6 working days

TNT

Around 6-

7

working days

By Air

Around 5-7 working days

By Sea

Around 15-30 working days

Perfect After-Sales Service
Product Pictures Showing

Shipment Tracking Number

Promptly Following Tracking Status

Delivery Notice

Product Quality Following

Product Feedback

Follow-up Improvement Suggestion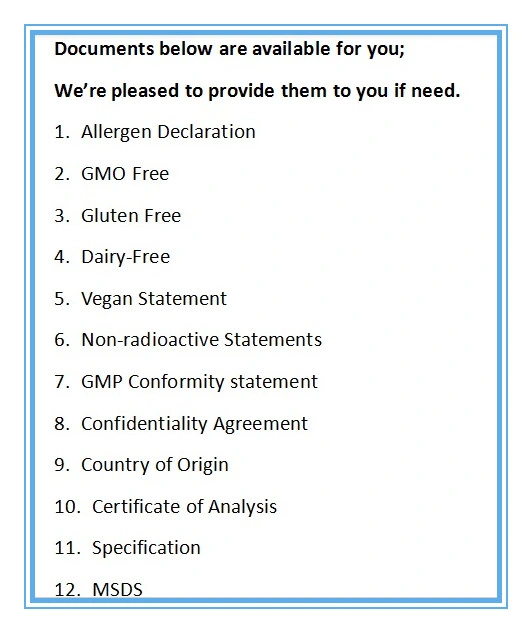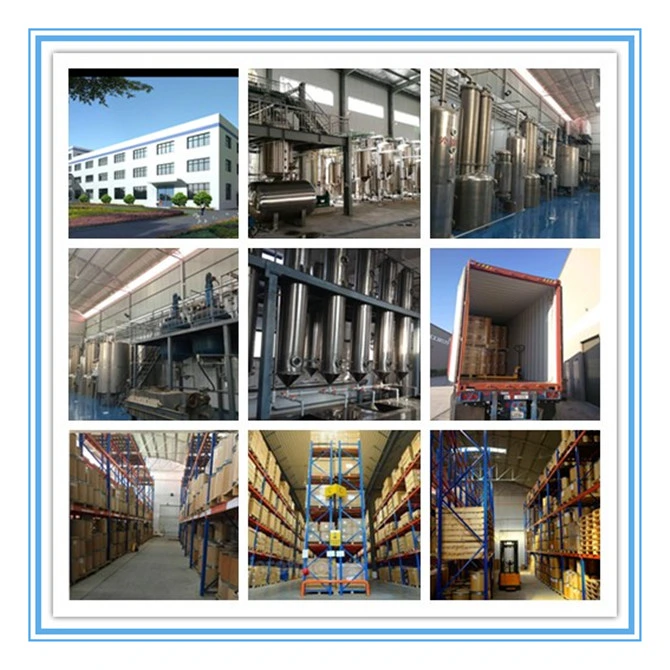 FAQ: