Name: Soil Nutrient Tester
Model: TPY-6PC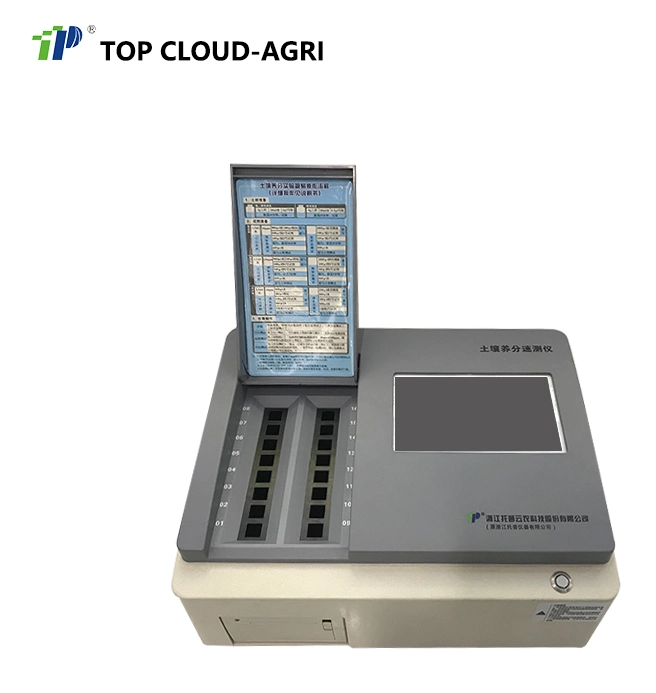 Pass ISO9001
Test 70 kinds, printing function
G. W: 10KG V: 68*41*23CM
Test N, P, K, pH, organic matter, soil pH, soil salinity
Function:
Test N, P, K, pH, organic matter, soil pH, soil salinity, with storage and printing function, built-in the amount of nutrients needed for growth of 70 kinds of crops, can provide guidance for fertilizing amount according to needs, with printing function
Characteristic:
Can quickly test N, P, K organic matter, salinity, and pH in the soil, fertilizer and plants
With the function of time display, can automatically record and save the time of tested sample
Can store about 1000 groups datum (time, place, fertilizer), datum can be checked at any time.
Can print testing data, sample No, testing item, sample content, variety and so on
Big LCD display, easy to operate
Can set crop variety, crop yield, fertilizer variety, and automatically count the fertilizing amount
Built-in large capacity rechargeable battery.
Technical parameters:
1. Nutrient measurement technical parameters:
Stability: A(absorbency of light) drift < 0.003 in three minutes.
Repetitiveness: A(absorbency of light) < 0.005
Linearity errors: <3.0 %
Sensitivity: Red light ≥ 4.5 × 10-5; Blue light ≥ 3.17× 10-3
Wave length range: Red light 620 ± 4nm; Blue light 440± 4nm; Green light 520 ± 4 nm
Anti-knocking performance: Qualified
(Attention: Above technical parameters all exceed national standards)
2. PH technical parameters:
Testing range: 1-14
Error: ± 0.1
3. Salinity technical parameters:
Testing range: 0.01% -1.00%
Relative error: ± 5%
4. Soil moisture technical parameters:
Moisture unit: % (m3/m3)
Moisture content rate testing range: 0-100%
Accuracy: ± 2%
5. Power:
Alternating current: 80V- 240V, 50Hz
Direct current: 18V, 5W (With tester)
| | |
| --- | --- |
| Model | Function difference |
| TPY-IV | Test N,P,K, organic matter; with formula function; can provide guidance for fertilizing amount according to needs; without printing function |
| TPY-6 | Test N,P,K, organic matter, soil PH, soil salinty; with storage and printing function |
| TPY-6A | Based on the function of TPY-6, built-in the amount of nutrients needed for growth of 70 kinds of crops; can provide guidance for fertilizing amount according to needs; with printing function |
| TPY-6PC | Based on the function of TPY-6, with "intelligent formula fertilization software system" CD; built-in the amount of nutrients needed for growth of 70 kinds of crops; with printing function; can connect with computer for data storage, te;etransmission and printing |
| TPY-7PC | Based on the function of TPY-6, can also test soil moisture; with "intelligent formula fertilization software sysytem" CD; built-in the amount of nutrients needed for growth of 70 kinds of crops; with printing function; can connect with computer for data storage, teletransmission and printing |